By Bob Barney,  Gerald Belsky, Military News
Gen MacArthur: " If we do not now devise some greater and more equitable system, Armageddon will be at our door."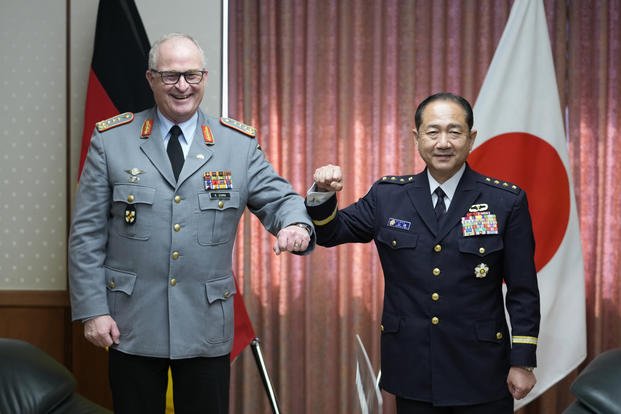 Gen. Eberhard Zorn, chief of Defense of the German Armed Forces, left, and Gen. Koji Yamazaki, chief of Staff, Joint Staff of the Japan Self-Defense Forces, pose for a photo before their talk at the Ministry of Defense in Tokyo, Friday, Nov. 5, 2021. (AP Photo/Hiro Komae)
TOKYO — Defense Minister Nobuo Kishi on Friday said Japan will step up military cooperation with Germany in the Indo-Pacific region as he welcomed a port call by the first German warship to visit Japan in about 20 years. Not since World War II has Japan and Germany been united by themselves to conduct war.  The Plain Truth has for years been warning that new super-powers are coming-namely Germany (leading the EU or as we put it "The United States of Europe," and a re-armed and aggressive Japan.  World War II is going to be repeated... This time modern day Israel (That's The USA, Canada and England) will lose. The beast (and antichrist) of Revelation is the revised Holy Roman Empire, under a tyrant like Hitler. 
General of the Army Douglas MacArthur,  an icon of American military history, and a soldier who served his country for more than a half-century, knew of the dangers of an re-armed Germany and Japan and warned against them becoming armed again.  This was particularly seen in his most challenging assignments: On Aug. 29, 1945, just days before the formal Japanese surrender aboard USS Missouri in Tokyo Bay, President Harry S. Truman tapped MacArthur to oversee the occupation, rebuilding and democratization of Japan. Though his official title was supreme commander for the Allied powers (SCAP), he became in effect that defeated nation's American viceroy.
Last week, after 70 years, The frigate Bayern is visiting Tokyo after two days of joint exercises with the Japanese Maritime Self-Defense Force destroyer Samidare in the Pacific Ocean amid increasingly assertive maritime activities by China in the region.The ship's visit is "an important turning point" in pursuing a "free and open Indo-Pacific" and secure one of the world's most important shipping lanes, Kishi said after inspecting the frigate with German officials.
"It shows Germany's strong commitment to actively contribute to peace and stability in the Indo-Pacific," he said.
76 years earlier in a radio address to the American people on September 2, 1945 on board the battleship Missouri after the Japanese surrender ceremony marking the end of World War II, General Douglas MacArthur, the Supreme Commander of the Allied Powers,  stated that with the development of atomic weapons ( and the absolutely unnecessary dropping of the atomic bomb on Japan), it was now imperative to revise the "traditional concept of war". [1]
Unlike the deranged, virtually Satanic British puppet like Obama or even Biden today,  MacArthur, echoing the earlier views of the deceased President Franklin Roosevelt, shared at the time by most veterans of World War II, such as Lyndon LaRouche and John F. Kennedy,  boldly called for  replacing the British imperial game of "balances of power" and "military alliances", with a "new more equitable system", or, he warned, we faced "Armageddon".
"It is my earnest hope and  indeed the hope of all mankind that from this solemn occasion a better world shall emerge out of the blood and carnage of the past – a world founded upon faith and understanding- a world dedicated to the dignity of man and the fulfillment of his most cherished wish- for freedom, tolerance and justice."
MacArthur then gave his radio broadcast to the American people, which included the following prescient ideas of what must emerge in the new era  from the "blood and carnage of the past", if we are to avoid Armageddon:
"Today the guns are silent. A great tragedy has ended. A great victory has been won. The skies no longer rain death-the seas bear only commerce-men everywhere walk upright in the sunlight. The entire world is quietly at peace. The holy mission has been accomplished…

"A new era is upon us. Even the lesson of victory itself brings with it profound concern, both for our future security and the survival of civilization. The destructiveness of the war potential, through progressive advances in scientific discovery, has in fact now reached a point which revises the traditional concept of war.

"Men since the beginning of time have sought peace. Various methods through the ages have attempted to devise an international process to prevent or settle disputes between nations. From the very start workable methods were found insofar as individual citizens were concerned, but the mechanics found insofar as individual citizens were concerned, but the mechanics of an instrumentality of larger international  scope have never been successful. Military alliances, balances of power, leagues of nations, all in turn failed, leaving the only path to be by way of the crucible of war. We have had our last chance. If we do not now devise some greater and more equitable system, Armageddon will be at our door.

Perhaps the most radical of his reforms in Japan, which drove the cold warriors wild, esp. when they contemplated using Japan as a military base in the Cold War, was General MacArthur's promotion of the clause in the Japanese constitution, Article 9, which outlawed war (although not self-defense), the very injunction which Obama and Japanese Prime Minister Abe want to abolish, against the wishes of the majority of the Japanese population!

MacArthur  wanted to demonstrate to the world that Japan was no longer a warrior nation, so that it could reestablish its trade relations with the rest of Asia, esp. since he knew that Japan's former colonies harbored tremendous rage at the atrocities that Japan had committed during the war. Since Japan could not produce most of the raw materials needed for its existence, it would have to trade with the rest of Asia.; MacArthur wanted to make his reforms the basis for an American System reform throughout Asia, a "grand design" to raise living standards throughout Asia, which he saw as the "new frontier" of civilization. Furthermore, MacArthur, contrary to his critics who liked to portray him as a "war monger", genuinely wished to outlaw war.

General MacArthur wanted to rebuild the Japanese economy in order to promote "the general welfare", but, according to his aide General Whitney, "MacArthur's original directive from Washington contained the specific injunction that he should not 'assume any responsibility for the economic rehabilitation or the strengthening of the Japanese economy' " As Whitney emphasizes, had MacArthur complied with the strict letter of this injunction, "Japan would have gone into economic oblivion. So, without assuming 'any responsibility', he worked through the Japanese government, just as he did in reorienting the nation politically, to revive Japan's economic life and restore to her a free and healthy economy."
Things are not going to end well for America in this new alliance... WAR IS COMING