article by Mario Seiglie
The recent movie Noah presents a horribly distorted view of one of the Bible's great heroes of faith. What's the true story that you may have never heard or considered? Let's look at seven little-known facts about Noah that can change our lives for good!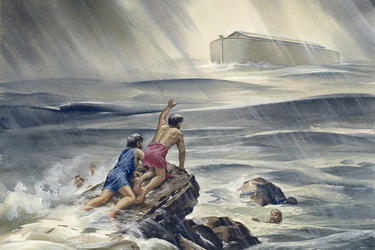 What does the story of Noah have to do with us?
Years ago, Paul Harvey, a famous U.S. radio commentator, ended his talks with the words, "And now you know the rest of the story." He had just given a side of the news or a personality or historical event that was not well known.
Recently the movie Noah has been in the news. The film has a big-name director, popular leading actors and lots of drama to draw viewers into the theaters. Studios invested millions in hopes that the movie would become a big Hollywood hit.
Reviews have been highly negative in terms of biblical accuracy. Moreover, the biblical story has been grossly distorted with Gnostic and other arcane elements and made into a huge Hollywood melodrama.
Many fictional parts have been added, especially the many scenes with mythical rock creatures (supposedly fallen angels) who actually build the ark (with wood from a miraculously grown instant forest) and save Noah from a small army that tries to capture the ark. Further distorting the story, Noah is portrayed as an angry, tormented and murderous man, in complete contradiction of the Bible's description of him as a righteous and godly person.
Perhaps the only redeeming value of the movie would be if people are motivated to read the Bible for themselves, recognize actual parallels between Noah's and today's age, wake up from their spiritual lethargy and turn to God.
As the latest fad, the movie Noah will come and go. But more important is this question: What does the story of the real Noah have to do with us? Surprisingly, it can teach us a great deal. Let's look at seven little-known facts about Noah that can change our lives for good!