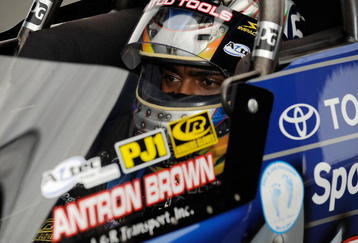 Rusty Jarrett/Getty Images
Antron Brown launched his top fuel car in the first round of eliminations at Firebird Raceway in Phoenix when one of the massive rear tires broke off.  Brown's dragster made a radical turn toward the wall, flipped over and burst into flames in the violent crash.
The wheel went airborne for nearly an eighth mile and bounced off a fence hitting an unidentified woman that was sitting at a picnic table.  Tragically she was pronounced dead at a hospital in Chandler after being air lifted out.

The safety safari of NHRA quickly extracted a badly shaken Brown from the burning wreckage and he was taken to a nearby hospital and was said to be physically all right. It was a freak accident and certainly tragic. 

Safety is always a huge concern and the people in the drag racing community will work on a way to better secure the tire to the vehicle. Antron Brown's demolished dragster was covered with a tarp and physically carried by team members into the hauler.
NHRA issued a statement of condolence to the family of the deceased woman. Racing is a close community whether it be NASCAR, NHRA or any other series.  It is a spectacular sport and spectacular events unfold when you have high powered cars racing at high speeds.

NASCAR has had it's share of tragic events on track with the death of drivers, but also with odd incidents of cars going airborne and crashing against the catch fence.  Unfortunately fans have been badly injured in some of these instances. When we go to these racing venues we are aware of the dangers, but it is in the back of our minds.  Just as drivers know how quickly things can turn really bad, they cannot dwell on the danger.
Collectively our hearts go out to the family and friends of the woman that lost her life while sitting at a picnic table during the drag race eliminations.  We feel sadness for Schumacher Racing who owns Brown's top fuel car and ofcourse for Antron Brown who must be quite distraught.
Race fans love racing and horrific accidents will not deter them from attending events.  Each racing series is highly cognizant of driver and fan safety.  From every serious injury or death that is in any way racing related, new and better procedures evolve.