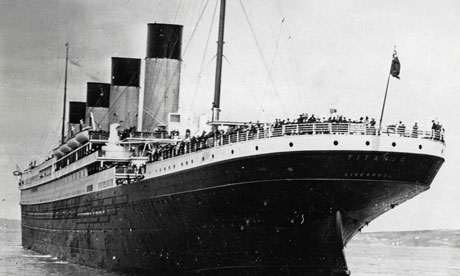 The Titanic sank in 1912, with over 1,500 people losing their lives. Photograph: Popperfoto/Getty Images
Family secrets which cast new light on the sinking of the Titanic, one of the most enduring and powerful 20th-century disaster stories, are revealed today. They tell a remarkable story of human error followed by an almost criminal disregard for human life.
Just as remarkable is that the first-hand testimony has remained a secret for nearly 100 years.
Louise Patten, the granddaughter of the most senior surviving officer from the Titanic, is today revealing family secrets which, she says, get to the heart of why the liner went down overnight on the 14-15 April 1912, resulting in the deaths of more than 1,500 people.
If true, the secrets reveal two things: that the ship was steered towards the iceberg that sank it because of a simple mistake, and that Titanic kept sailing for all the wrong reasons.  LINK