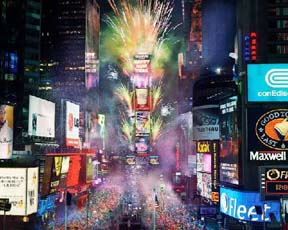 I always find it amazing that we can always remember to keep ancient pagan days, BUT NOT ONE found in the Bible- NOT ONE!
  In 46 B.C.E. the Roman emperor Julius Caesar first established January 1 as New Year's day. Janus was the Roman god of doors and gates, and had two faces, one looking forward and one back.  Caesar felt that the month named after this god ("January") would be the appropriate "door" to the year.  Caesar celebrated the first January 1 New Year by ordering the violent routing of revolutionary Jewish forces in the Galilee.  Eyewitnesses say blood flowed in the streets.  In later years, Roman pagans observed the New Year by engaging in drunken orgies—a ritual they believed constituted a personal re-enacting of the chaotic world that existed before the cosmos was ordered by the gods.
As Christianity spread, pagan holidays were either incorporated into the Christian calendar or abandoned altogether.  By the early medieval period most of Christian Europe regarded Annunciation Day (March 25) as the beginning of the year.  (According to Catholic tradition, Annunciation Day commemorates the angel Gabriel's announcement to Mary that she would be impregnated by G-d and conceive a son to be called Jesus.)
    After William the Conqueror (AKA "William the Bastard" and "William of Normandy") became King of England on December 25, 1066, he decreed that the English return to the date established by the Roman pagans, January 1.  This move ensured that the commemoration of Jesus' birthday (December 25) would align with William's coronation, and the commemoration of Jesus' circumcision (January 1) would start the new year - thus rooting the English and Christian calendars and his own Coronation).  William's innovation was eventually rejected, and England rejoined the rest of the Christian world and returned to celebrating New Years Day on March 25.
    About five hundred years later, in 1582, Pope Gregory XIII (AKA "Ugo Boncompagni", 1502-1585) abandoned the traditional Julian calendar. Read the rest