Israeli politicians and LGBT activists have called for the resignation of Sephardi Chief Rabbi Shlomo Amar after the high-ranked cleric said that homosexuality was punishable by death.
"This is a cult of abomination, this is clear," Amar said when asked of his attitude toward homosexuality in an interview with Yisrael Hayom newspaper, cited by Times of Israel.
"This is an abomination. The Torah says it is punishable by death. It is in the first rank of severe offenses," he said.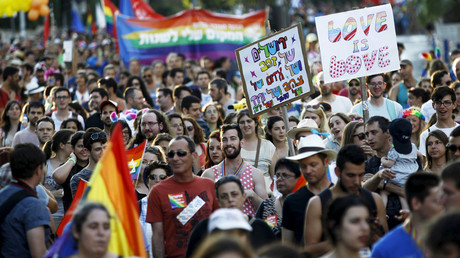 Amar added that he didn't believe in some people having a homosexual orientation, calling such claims "nonsense."
"There are desires and a person can overcome it if he wants, like all other desire," Jerusalem's top rabbi said.
After the release of extracts from Amar interview on Thursday, an LGBT activist, Shirley Kleinman, filed a complaint to the police, blaming the cleric for incitement to murder.
"Let's try and ensure that this man will not remain in his key public position," Kleinman wrote on her Facebook page, as cited by The Jerusalem Post.
"This is not an anti-religious issue, I have nothing against religion, every person shall live in accordance with their faith. I do have an interest to protect my rights and your rights to live, and [to live with] dignity," she said.