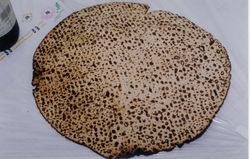 Unleavened Bread

Today, ending at Sunset is the Last Day of Passover week........
Early faithful Christians believed that they were supposed to keep it and other days that many today think of as Jewish, not Christian, Holy Days.
Notice what a respected Protestant scholar reported about the second century:
The most important in this festival was the passover day, the 14th of Nisan…In it they ate unleavened bread, probably like the Jews, eight days through…there is no trace of a yearly festival of the resurrection among them…the Christians of Asia Minor appealed in favor of their passover solemnity on the 14th Nisan to John (Gieseler, Johann Karl Ludwig. A Text-book of Church History. Translated by Samuel Davidson, John Winstanley Hull, Mary A. Robinson. Harper & brothers, 1857, Original from the University of Michigan, Digitized Feb 17, 2006, p. 166).
So, like the Apostle John (the last of the original apostles to die), the early faithful Christians observed Passover and the Days of Unleavened Bread.
In the late third century, Anatolius of Alexandria wrote the following:  Read More